Hello Friends !
I hope you are doing great. So, as we discussed the Pahalgam Route of Amarnath Yatra in previous blog.
Here we will discuss about second route that is Baltal route for amarnath cave.
AMARNATH YATRA ( JAI BABA BARFANI) Om namah shivaya
Baltal Route for Amarnath Cave
Baltal route for amarnath cave  is much shorter route as compared to Pahalgam route. This route allows pilgrims to take a round trip in 1-2 days. Young and healthy persons can take this route.
Amarnath Yatra – Pahalgam Route 2021
Short Route For Amarnath Cave:
Jammu – Srinagar – Baltal – Barari Marg – Sangam – Holy Cave
In this route, there are some steep rises & falls (high rise sun or rain) on the way. It is always recommended to come down from this route as it takes only 1 day to reach Baltal from Amarnath holy cave.
Jammu – Baltal:
The distance between Jammu to Baltal , which is 400 km. taxi or buses. At Tourist Reception Centre J & K Govt, Raghunath Bazaar, taxi or buses are available early in the morning. If you wanna travel by flight then you can also reach Srinagar by air and then travel to Baltal by road. This journey Passing through beautiful valleys, mountains. In the divinity of Lord Shiva, you will see the inner soul of yourself and feel the inner power.
Baltal – Holy Cave: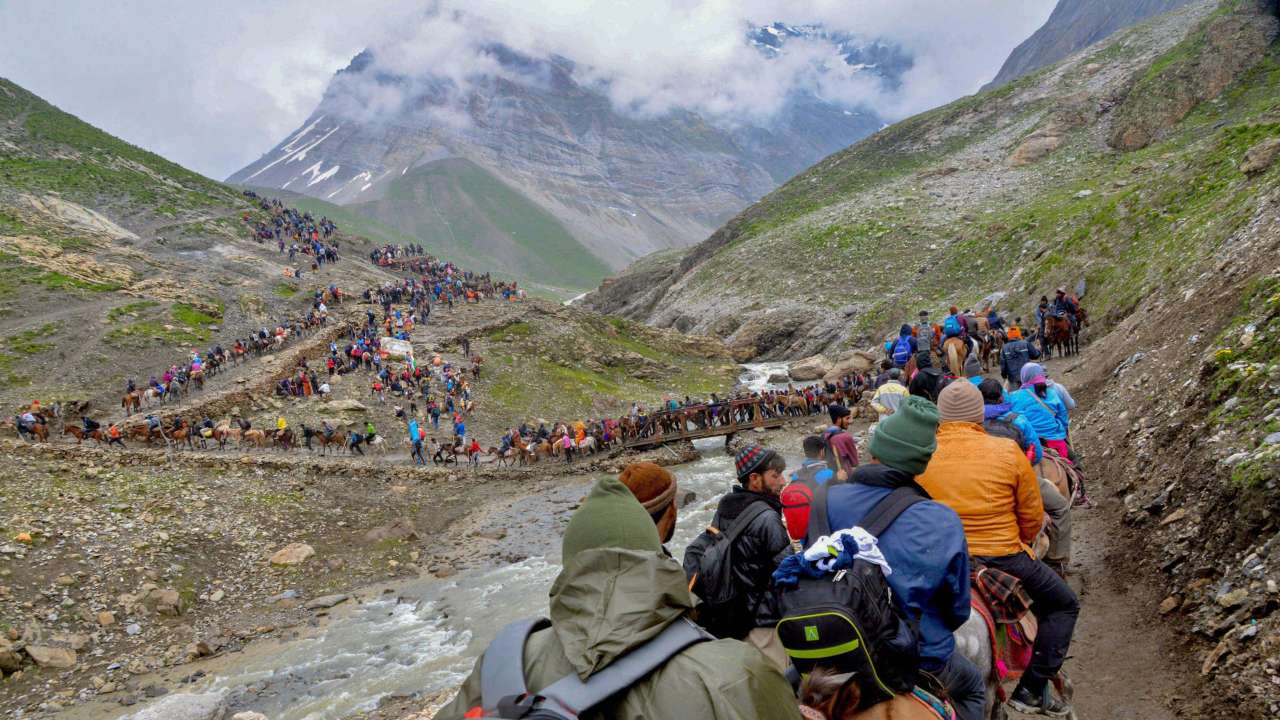 The distance between Baltal and Baba Barfani Amarnath holy cave is mere 14 kms which can be covered by foot or with the help of ponies. There are some steep cliffs and gorges on the way but pilgrims can return back to Baltal through this route in a single day itself.
There are langars in the route that offer free food to the pilgrims. One sip of the hot tea served in the cold here, and you will experience blissful journey. Near by holy cave, you can hire a tent at a reasonable price from the local organizers at night . I love baltal route to Amarnath cave because it short way to see the exciting Barfani Baba.
The holy cave shuts by 5 PM usually. It is believed to this religious place that where Lord Shiva explained the secret of life and eternity to Goddess Parvati.
Reach by Railway and Flight
You can reach Amarnath cave by train, Helicopter, and flight. Jammu is connected to all major cities of India via a railway network. Jammu Rajdhani Express goes to Amarnath from Delhi.
From Delhi   –       Jammu Rajdhani Express
From Chennai  –  Andaman Express
From Mumbai  –  Jammu Tawi Express
From Pune  –       Jhelum Express
Shrinagar is connected to all major cities of India via airports. The nearest railway station is Jammu station and Srinagar is the nearest airport to reach the Amarnath Shrine. Airlines Like Indigo, Air India, Spice jet, Jet Airways, GOAir operate from Srinagar.
Helicopter services are available to reach the Amarnath cave. Himalayan Heli and Pawan Hans etc provide helicopter service to Amarnath Cave.
Conclusion:
Amarnath Yatra is the most unforgettable journey of all my trips. It gave me a soulful pleasure in my life that i can feel. There is a spark, a light that can enlighten the life of everyone who is visiting over there with a pure heart and soul.
I suggest, everyone must go Baba Barfani Amarnath holy cave at-least once in their life. You will feel the real bliss in your life and also you ll get to know the purpose of your life.
Bas Ek Baar Darsan Krke Dekho, Apki Life Badal Jayegi.
Har Har Mahadev!
Summary