At the ongoing Asian Games 2023, India attained a record-breaking 100 medals. India has never before in history accomplished such a fantastic feat. This triumph followed the Indian women's kabaddi team's victory in the women's team kabaddi competition at the 19th Asian Games in Hangzhou on October 7.
With a total of 100 medals, including 25 gold, 35 silver, and 40 bronze, India is now in fourth place in the medal standings.
The athletes received praise from Prime Minister Modi, who described it as a significant victory for India at the Asian Games 2023. PM Modi stated, "A momentous accomplishment for India at the Asian Games 2023! The achievement of 100 medals has been a wonderful milestone, and the people of India are ecstatic about it. I offer my sincere congratulations to the amazing athletes whose efforts have helped India reach this historic milestone. Every magnificent performance made history and made us feel proud. On the 10th, I'm looking forward to hosting our athletes' delegation to the Asian Games and talking with them.
LIVE Updates Of Asian Games 2023:
India's top archer, Jyothi Surekha Vennam, who is currently competing at the Asian Games 2023 in Hangzhou and won three gold medals, expressed confidence and predicted that the country will continue to win medals after reaching a historic milestone of 100 medals.
"Fantastic news! Mint has been added to WhatsApp Channels. The link will take you to a subscription page where you can sign up right now to receive the most recent financial insights. Click this!
"I am very happy; this time India did great; there are more medals to come," Venna said in a statement to the news agency ANI. I congratulate every athlete, regardless of whether they took home a medal or not. I'd like to wish them well the following time. Without the Indian government, this would not have been possible, so I would want to thank them.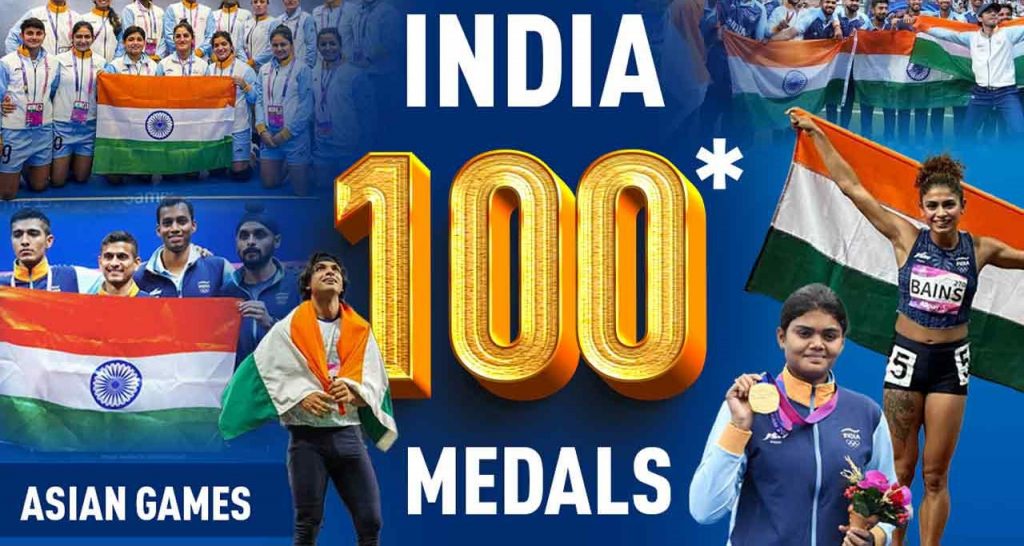 Here's The Full List Of 100 Medals Achieved By The India:
| | | | |
| --- | --- | --- | --- |
| No | Sport | Name | Medal |
| 1 | Shooting (Men's 10m air rifle team) | Divyansh Singh Panwar, Aishwary Pratap Singh Tomar and Rudrankksh Patil | Gold |
| 2 | Cricket (Women's T20 cricket) | Women's T20 cricket | Gold |
| 3 | Equestrian (Team dressage) | Divyakriti Singh astride Adrenalin Firfod, Hriday Vipul Chhed (Chemxpro Emerald), Anush Agarwalla (Etro) | Gold |
| 4 | Shooting (Women's 25m pistol team) | Manu Bhaker, Esha Singh and Rhythm Sangwan | Gold |
| 5 | Shooting (Women's 50m rifle 3 positions) | Sift Samra | Gold |
| 6 | Shooting (Men's 10m air pistol team) | Sarabjot Singh, Shiva Narwal, and Arjun Singh Cheema | Gold |
| 7 | Shooting (Men's 50m rifle 3 positions team) | Aishwary Pratap Singh Tomar, Swapnil Kusale and Akhil Sheoran | Gold |
| 8 | Shooting (Women's 10m air pistol) | Palak Gulia | Gold |
| 9 | Tennis (Mixed doubles) | Rohan Bopanna and Rutuja Bhosale | Gold |
| 10 | Squash (Men's team) | Team India | Gold |
| 11 | Shooting (Men's trap team) | Kynan Chenai, Zoravar Singh Sandhu and Prithviraj Toindaman | Gold |
| 12 | Athletics (Men's 3000m steeplechase) | Avinash Sable | Gold |
| 13 | Athletics (Men's shot put) | Tajinderpal Singh Toor | Gold |
| 14 | Athletics (Women's 5000m) | Parul Chaudhary | Gold |
| 15 | Athletics (Women's javelin throw) | Annu Rani | Gold |
| 16 | Archery (Mixed team compound) | Jyothi Surekha Vennam and Pravin Ojas Deotale | Gold |
| 17 | Athletics (Men's javelin throw) | Neeraj Chopra | Gold |
| 18 | Athletics (Men's 4x400m relay) | Anas Muhammed Yahiya, Amoj Jacob, Muhammed Ajmal Variyathodi and Rajesh Ramesh | Gold |
| 19 | Archery (Women's compound team) | Jyothi Vennam, Aditi Swami, Parneet Kaur | Gold |
| 20 | Squash (Mixed doubles) | Dipika Pallikal, Harinder Pal Sandhu | Gold |
| 21 | Archery (Men's compound team) | Abhishek Verma, Ojas Deotale and Prathamesh Jawkar | Gold |
| 22 | Hockey (Men's team) | Team India | Gold |
| 23 | Archery (Women's compound individual) | Jyothi Surekha Vennam | Gold |
| 24 | Archery (Men's compound individual) | Ojas Pravin Deotale | Gold |
| 25 | Kabaddi (Women's kabaddi) | Team India | Gold |
| 26 | Shooting (Women's 10m air rifle team) | Ramita Jindal, Mehuli Ghosh, Ashi Chouksey | Silver |
| 27 | Archery (Men's compound individual) | Abhishek Verma | Silver |
| 28 | Bridge (Men's team) | Raju Tolani, Ajay Prabhakar Khare, Sumit Mukherjee, Rajeshwar Tiwari, Jaggy Shivdasani and Sandeep Thakral | Silver |
| 29 | Archery (Men's recurve team) | Atanu Das, Dhiraj Bommadevara and Tushar Shelke | Silver |
| 30 | Squash (Men's singles) | Saurav Ghosal | Silver |
| 31 | Athletics (Men's javelin throw) | Kishore Jena | Silver |
| 32 | Athletics (Women's 4x400m relay) | Vithya Ramraj, Aishwarya Mishra, Prachi and Subha Venkatesan | Silver |
| 33 | Athletics (Men's 5000m) | Avinash Sable | Silver |
| 34 | Athletics (Women's 800m) | Harmilan Bains | Silver |
| 35 | Boxing (Women's 75kg) | Lovlina Borgohain | Silver |
| 36 | Athletics (Men's decathlon) | Tejaswin Shankar | Silver |
| 37 | Athletics (Men's 800m) | Mohammed Afsal | Silver |
| 38 | Athletics (Mixed 4x400m relay) | Muhammed Ajmal, Rajesh Ramesh, Vithya Ramraj, Subha Venkatesan | Silver |
| 39 | Athletics (Women's long jump) | Ancy Sojan | Silver |
| 40 | Athletics (Women's 3000m steeplechase) | Parul Chaudhary | Silver |
| 41 | Badminton (Men's team) | Team India | Silver |
| 42 | Athletics (Women's 100m hurdles) | Jyothi Yarraji | Silver |
| 43 | Athletics (Men's long jump) | Murali Sreeshankar | Silver |
| 44 | Athletics (Men's 1500m) | Ajay Kumar Saroj | Silver |
| 45 | Athletics (Women's 1500m) | Harmilan Bains | Silver |
| 46 | Shooting (Women's trap team) | Team India | Silver |
| 47 | Golf (Women's golf) | Aditi Ashok | Silver |
| 48 | Athletics (Men's 10,000m) | Karthik Kumar | Silver |
| 49 | Shooting (Mixed team 10m air pistol) | Divya TS and Sarabjot Singh | Silver |
| 50 | Shooting (Men's 50m rifle 3 positions) | Aishwary Pratap Singh Tomar | Silver |
| 51 | Shooting (Women's 10m air pistol) | Esha Singh | Silver |
| 52 | Tennis (Men's doubles) | Ramkumar Ramanathan, Saketh Myneni | Silver |
| 53 | Shooting (Women's 10m air pistol team) | Esha Singh, Palak Gulia and Divya TS | Silver |
| 54 | Wushu (Women's 60kg sanda) | Naorem Roshibina Devi | Silver |
| 55 | Shooting (Men's skeet) | Anantjeet Singh Naruka | Silver |
| 56 | Shooting (Women's 25m pistol) | Esha Singh | Silver |
| 57 | Shooting (Women's 50m rifle 3 positions team) | Sift Kaur Samra, Ashi Chouksey, Manini Kaushik | Silver |
| 58 | Sailing (Girl's Dinghy – ILCA4) | Neha Thakur | Silver |
| 59 | Rowing (Men's eight) | Team India | Silver |
| 60 | Rowing (Men's lightweight double sculls) | Arjun Lal Jat and Arvind Singh | Silver |
| 61 | Rowing (Men's pair) | Babu Lal Yadav and Lekh Ram | Bronze |
| 62 | Shooting (Women's 10m air rifle) | Ramita Jindal | Bronze |
| 63 | Rowing (Men's four) | Ashish, Bheem Singh, Jaswinder Singh, Punit Kumar | Bronze |
| 64 | Rowing (Men's quadruple) | Satnam Singh, Parminder Singh, Jakar Khan, Sukhmeet Singh | Bronze |
| 65 | Shooting (Men's 10m air rifle) | Aishwary Pratap Singh Tomar | Bronze |
| 66 | Shooting (Men's 25m rapid file pistol team) | Vijayveer Sidhu, Adarsh Singh, Anish Bhanwala | Bronze |
| 67 | Sailing (Men's Windsurfer – RS:X) | Eabad Ali | Bronze |
| 68 | Shooting (Women's 50m rifle 3 positions) | Ashi Chouksey | Bronze |
| 69 | Shooting (Men's skeet team) | Anant Jeet Singh Naruka, Angad Vir Singh Bajwa, Gurjoat Singh Khangura | Bronze |
| 70 | Sailing (Men's dinghy ICLA7) | Vishnu Saravanan | Bronze |
| 71 | Equestrian (Individual dressage) | Anush Agarwalla | Bronze |
| 72 | Squash (Women's team) | Team India | Bronze |
| 73 | Athletics (Women's shot put) | Kiran Baliyan | Bronze |
| 74 | Athletics (Men's 10,000m) | Gulveer Singh | Bronze |
| 75 | Shooting (Men's trap) | Kynan Chenai | Bronze |
| 76 | Boxing (Women's 50kg) | Nikhat Zareen | Bronze |
| 77 | Athletics (Men's 1500m) | Jinson Johnson | Bronze |
| 78 | Athletics (Women's heptathlon) | Nandini Agasara | Bronze |
| 79 | Athletics (Women's discus throw) | Seema Punia | Bronze |
| 80 | Roller skating (Women's speed skating 3000m relay) | Aarathy Kasthuri Raj, Heeral Sadhu, Sanjana Bathula, Karthika Jagadeeswaran | Bronze |
| 81 | Roller skating (Men's speed skating 3000m relay) | Aryanpal Ghuman, Anandkumar Velkumar, Siddhant Kamble, VikramIngale | Bronze |
| 82 | Table tennis (Women's doubles) | Ayhika Mukherjee and Sutirtha Mukherjee | Bronze |
| 83 | Athletics (Women's 3000m steeplechas) | Priti Lamba | Bronze |
| 84 | Canoe Sprint (Men's canoe double 1000m) | Arjun Singh, Salam Sunil Singh | Bronze |
| 85 | Boxing (Women's 54kg) | Preeti Pawar | Bronze |
| 86 | Athletics (Women's 400m hurdles) | Vithya Ramraj | Bronze |
| 87 | Athletics (Men's triple jump) | Praveen Chithravel | Bronze |
| 88 | Boxing (Men's +92kg) | Narender Berwal | Bronze |
| 89 | Athletics (Mixed team race walk) | Ram Baboo, Manju Rani | Bronze |
| 90 | Squash (Mixed team) | Abhay Singh, Anahat Singh | Bronze |
| 91 | Boxing (Women's 57kg) | Parveen Hooda | Bronze |
| 92 | Wrestling (Greco-Roman 87kg) | Sunil Kumar | Bronze |
| 93 | Wrestling (Women's 53kg) | Antim Panghal | Bronze |
| 94 | Archery (Women's recurve team) | Ankita Bhakat, Bhajan Kaur, Simranjeet Kaur | Bronze |
| 95 | Badminton (Men's singles) | HS Prannoy | Bronze |
| 96 | Sepaktakraw (Women's regu) | Priya Devi Elangbam, Bi Devi Elangbam, Khushboo, Chaoba Devi Oinam and Maipak Devi Ayekpam | Bronze |
| 97 | Wrestling (Women's 62kg) | Sonam Malik | Bronze |
| 98 | Wrestling (Women's 76kg) | Kiran Bishnoi | Bronze |
| 99 | Wrestling (Men's freestyle 57Kg) | Aman Sehrawat | Bronze |
| 100 | Archery (Women's compound individual) | Aditi Swami | Bronze |