The whole Nation is in Anger, the Blood is boiling. India loses its Brave Sons.
Pulwama Terror Attack: Prime Minister Narendra Modi, Congress president Rahul Gandhi, Delhi Chief Minister Arvind Kejriwal along with Union ministers Rajnath Singh and Nirmala Sitharaman paid tributes to the 40 CRPF soldiers as their bodies arrived at the Palam airport.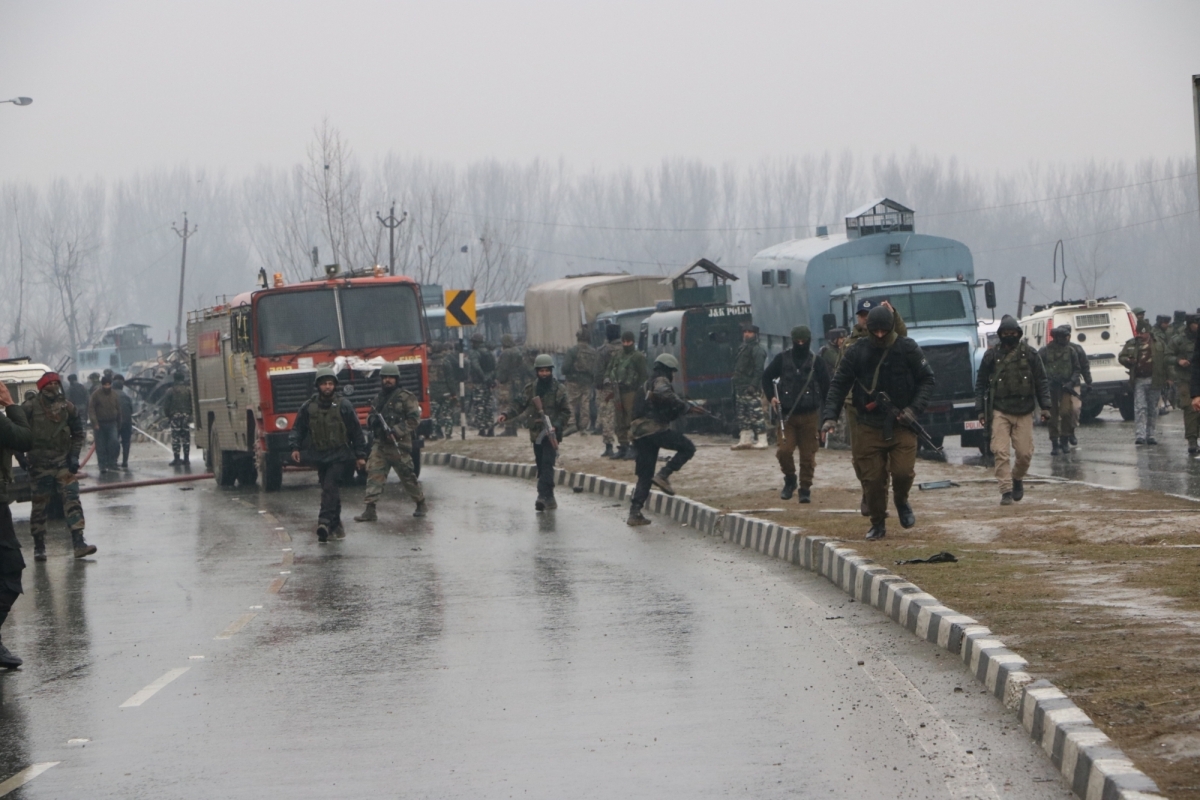 Pulwama Terror Attack: Know What Our Great Leaders Said
Prime Minister Narendra Modi has also said that the security force has been given all the authority and permissions to take instant decisions about the timing, place and the nature of their actions.
He further added, if our neighbor who is totally isolated in the world, thinks that by doing such kind of act of creating a conspiracy against India, then it is making a "Big Mistake". The force behind this act of terrorism had made a big mistake and have to pay a very high price.
Union Home Minister Rajnath Singh said the country will avenge the deadly attack carried out by Pakistani sponsored Jaish-e-Mohammed and its founder Masood Azhar, resulting in 40 jawans death and CRPF convoy of 70 vehicles.
Former President Pranav Mukherjee also said that he was in extreme pain by the inhuman actions of the terrorists. In this hour of grief, he wanted all of us to stand together holding hands as a nation. The united front put by all the political parties throughout the Nation is a sight of that unity.


Former Home Minister LK Advani stated that his heart goes out of the families for the sacrifices of the braved Jawans and pray for the recovery of all the injured in this attack. He also requested the Nation to stand unitedly in firm support with the government.
Similarly, Vice President M Venkaiah Naidu also showed up his condolence and said that it is a matter of concern now and may consider each one of his friends, who are in the different political spectrum, as his rivals, not enemies.
Heads of various other countries have supported and stood by India and also expressed condolences over this attack. India slammed Pakistan for this attack. Pakistan refused the statement rejecting the involvement in India's attack.
News Channels:
With reference to many news channels; BBC, ET and Business today, The jaish suicide bomber, disguised as Adil Ahmad Dar, rammed an SUV laden with nearly 300 kg of explosives into the CRPF bus carrying 40 Jawaans.  
ANI report says a Junior Ticket collector was arrested by Pune Rural Police for allegedly raising pro-Pakistan slogans while paying tribute to CRPF jawans who lost their lives in the Pulwama terror attack.
CPRF Shaheed Jawan :
India today report states that the Punjab government has also announced that they have had a state funeral to their four CRPF Jawans including Jaimal Singh of Dharamkot, Moga, Sukhjinder Singh of Tehsil Patti, Tarn Taran, Maninder Singh Attri of Dinanagar, Gurdaspur and Kulwinder Singh of Anandpur Sahib, Ropar from the state, who died in the Pulwama terror attack.
Prime Minister Narendra Modi pays tribute to these brave soldiers martyred in this Pulwama attack. He also stated "We salute you, brave sons of Mother India. You lived for the nation and served the country with unparalleled valour. We stand in solidarity with the bereaved families," on his Twitter handle.
Summary
Event
Location
Starting on
Description
PM Narender Modi has given free hand to our Security Force.