No one feels tired when they go for the journey of undiscovered feeling in the mountains, then how can one get tired of admiring and talking about the pristine beauty of mountains. The most beautiful thing in India are the staggering treks surrounded by the Himalayan ranges. Himachal Pradesh is one of the bewildering states which is home to several treks. We can call this place Heaven on Earth or hub of treks. This place has a lot to offer for its tourists and is also known as the vacation capital.

It consists of treks and pristine blue lakes, quaint villages, astonishing towns, scenic landscape, snow-clad mountains, unique flora, and fauna. Himachal organizes a lot of other adventurous and thrilling activities for the tourists to enjoy their vacation. Many treks are nestled in the Himalayas, but the one admired by many and is a perfect trail even for beginners is the Hampta Pass trek.
Hampta Pass Trek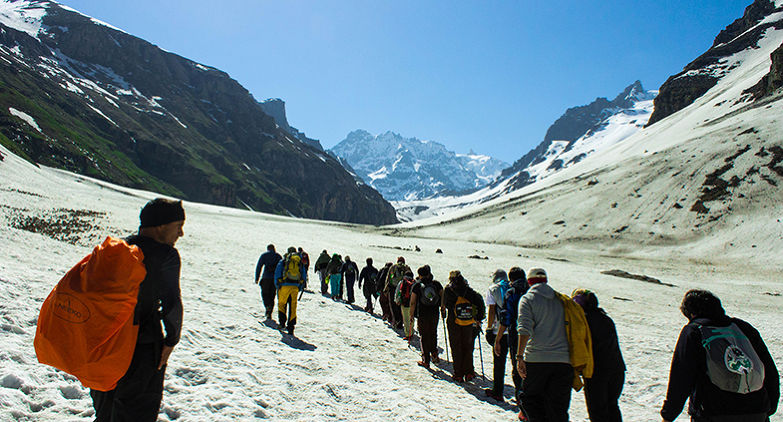 Hampta Pass trek is something that will leave a permanent trace on your heart with its beauty which is nestled at the elevation of 14,039 ft. Hampta pass trek is one of the breathtaking treks and gives everyone a chance to explore the Kullu region of Himachal Pradesh. Trekking in hampta pass is nothing less than trekking in the dreamland. The pass proffers its trekkers with the best of nature as the trail passes through the variation from lush green valley to fruitless land, grasslands with flowers blooming to the barren land with almost no vegetation. Trekkers have nothing to worry about the trek. Even if you are a beginner, this trek is perfect for you to visit.
Hampta pass acts as a bridge between Lahaul Valley and Spiti Valley, the two alluring valleys of Himachal. This dramatic trek is all about the unpredictable terrains and the best time you can enjoy this trek to the fullest is from mid-June to September when you witness the astounding beauty of nature. This trek is surely a treat for shutterbugs when they come across the enchanting view of glacial lakes, waterfalls, streams, deserted vale, clusters of landscapes and patches of snow.
The Chandratal Lake adds stars to this crescent moon-shaped lake that sits in the lap of rusty mountains. Campaigning at Hampta pass trek is always the best part which is surely an undeniable experience while campaigning at beautiful grassland dabbed with the bouquets of marigolds alongside where river babbles and the sky glittering with stars.
Some Facts About Hampta Pass Trek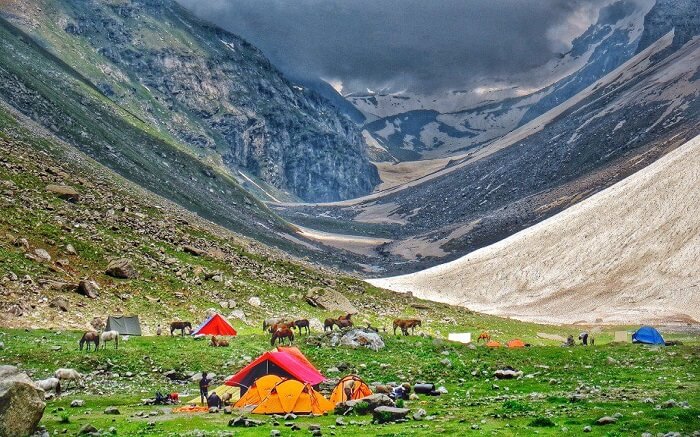 Hampta Pass Trek is a perfect pick for beginners to start its trekking journey, which is not so difficult and is a stretch of around 35 kms which is a perfect start.
If you want to enjoy your Hampta Pass trekking, mid-June to September is the best period to get close to nature.
This trek begins and concludes at the base of the most alluring town of the Himachal, Manali.
Hampta Pass got its name from one of the villages, Hamta, which is nestled at 14,000 ft. In Pir Panjal region.
Hampta Pass is also mentioned in Mahabharata, Hindu mythology. The trail from Hampta Pass to Chandratal lake is described as "Staircase to Heaven" as it is said, Pandavs walked through the trek trail on their quest for Paradise.
Here you will get the chance to witness the beautiful junction of 3 passes, Hampta, Spiti and Rohtang, which makes this place nothing less than heaven.
Hampta Pass is also home for migrants from Tibet and Spiti valley. Explore the distinct Buddhist culture.
This place got real chill vibes because it experiences a temperature of 12 to 14 degrees Celsius during the daytime, but it falls to -6 to -4 degrees at night.
Places to Visit near Hampta Pass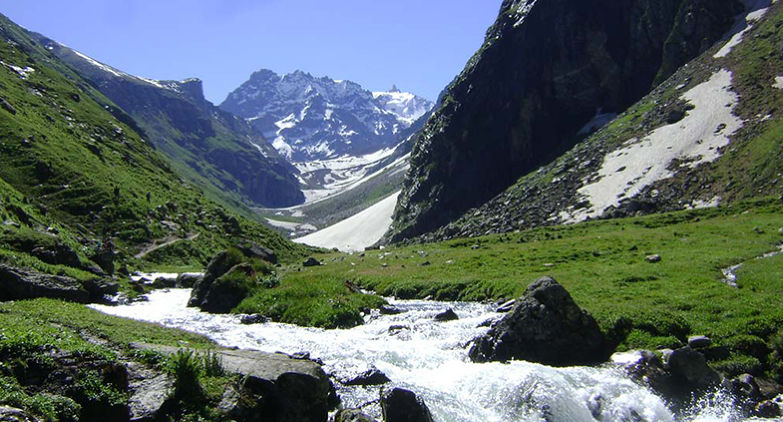 If you want sight at some of the peaks, then Deo Tibba is one of the highest peaks in the Pir Panjal range and an admired trekking spot.
Bhrigu Lake is one of the high-altitude glacial lakes which offers you a pleasant and peaceful view for your eye, and it is located to the east of Rohtang.
There is a beautiful eye captivating waterfall Rahala Fall, which originates from the top due to the melting of glaciers.
As we know, the Hampta pass trek gives sight at Rohtang Pass, which is a real treat for trekkers and bikers, Sarkund trek, which is famous for its medical properties and also an alluring place for visitors, is also located at Rohtang Pass.
Quaint villages like Malana, Kasol surround the Hampta pass trek. Malana sits near bewildering Parvati Valley, known for its Malana Cream, tribal people, and the foliage background is just amazing.
This place is enlightened with some of the holy attractions such as Manu Temple, Koksar, Kothi and Hidimba Temple.
How to Reach Manali
By Road: Road journey to Manali is always a stunning experience that can be fulfilled by boarding a bus from Delhi. Manali is well connected from Delhi, and you can reach your destination in around 12 to 14 hours. You can also drive by private vehicle, which is around 540 km of distance.
By Rail: The nearest railway station from Manali is Joginder Nagar Railway station connected to some major cities. This station is located at an approx distance of 163 km away from Manali. You can ride on a government or private bus from the station to Manali.
By Air: If you want to utilize your time while traveling, airways are your mode of transport to reach Manali. The nearest airport is Kullu Manali Airport which is located at Bhuntar, 50 km from the town. There are taxis available from Bhuntar to Manali, and they are not that costly.
Now tell me, doesn't all this sound amazing? Then what are you waiting for? Just pack your haversack, grab your ticket and be ready to explore and experience one of the mind-boggling treks of Hampta Pass, where you will get the hallucinating views on this alluring trail.