The summer season is back with a bang. We all are facing the burning heat of summer and we love to wear the comfort and soft clothes in this season. While summer is season of experimenting with different fabric wearing clothes. This is the best time to choose the best fabrics suited for summers. In winters, you can wear heavy boots with the woolen coat, but we need comfortable fabric in the summer season so that it you are not harasses your skin.
So basically, our fabric in summer season should be comforted, fit, and healthier.
You Must Know Best Fabrics Suited For Summers
The fabrics that are comfortable to wear during summers are:
Fabcurate bring out cool and comfortable fabric to beat the summer heat, which would even change your hot mood in blazing sun, will keep you calm. Check out the top fabrics that would reduce the sweat and would be perfect for Indian weather. I am sharing some best fabrics suited for summers which your skin would love. If you don't know about fabrics that you can carry during summers, You are the right place. Have a look and get inspired.
1. Kota Doria
Kota Doria is really comfortable, beautiful, and breezy fabric which you can wear during summers. You can't compare this fabric with other. In the scorching summer, Kota Doria is very lightweight and comfortable fabric which you can carry it easily. This fabric makes you look adorable. Kota Doria is a blend of cotton & silk, which doesn't harass your skin.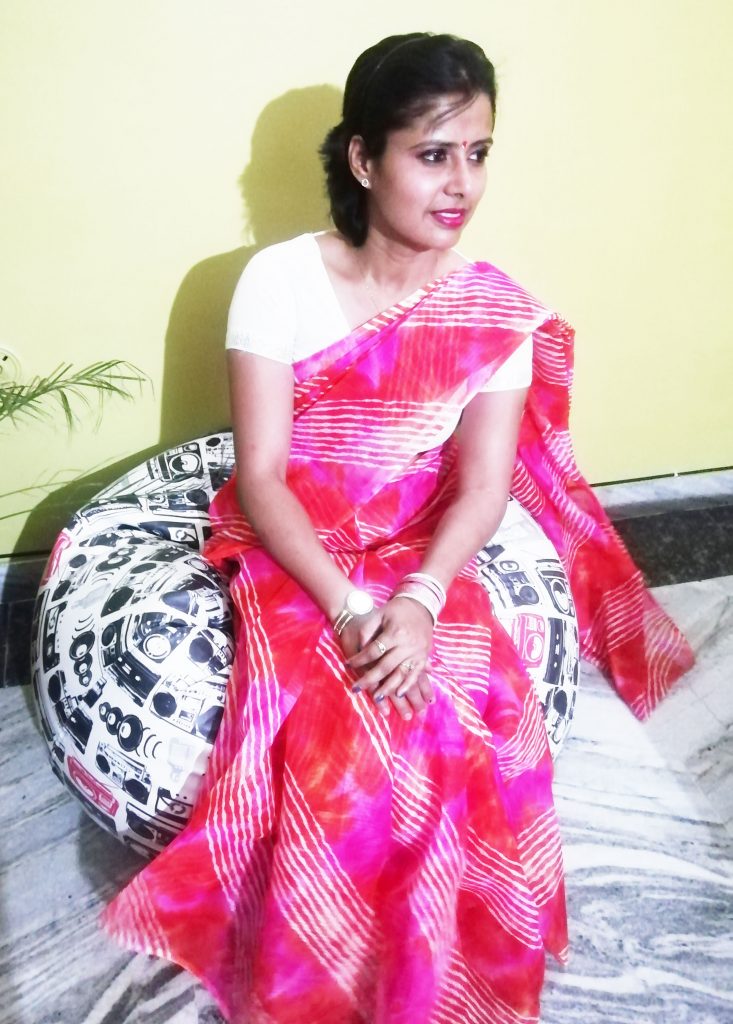 Recently, I got Fuchsia Pink And White Leheriya Pattern fabric from Fabcurate. When I open it, I was really excited to wear and experience it for myself. When I wore it, I loved this. I want to share my pics with you. Have a look. How do you like this fabric? Tell me in the comment box.


2. Cotton:
Without a doubt, best and comfort fabric is cotton, which is a breathable fabric. Cotton is an excellent choice for pretty summer dresses. It is also versatile enough to cover-up your body for both daytime and night time too, which allow proper air circulation and make the heat bearable.
3. Khadi
Khadi is one of another excellent summer fabrics. This fabric came into trend during the Swadeshi movement which Mahatma Gandhi's ignited fabric is revamped. Nowadays, Khadi is trending fabric for the Fashionist in the summer and gives soothing and cooling effect. This fabric flourished all over the globe since Swadeshi movement.
4. Chanderi
Chanderi is one of my favorite summer fabrics. It is a lightweight fabric that makes you cool and comfortable. It is also available in bright colors with different-2 prints. Chanderi is a mixture of cotton with light silk, and zari. You can buy chanderi saree from Fabcurate. This fabric is wearable in occasion and also looks pretty.
 5. Linen
Linen, a natural fabric is best for cool and comfort feeling in summer season. It is a perfect summer wear which is available in different shades that will make you smart and classy.
6. Lucknowi
Lakhnowi is one of the most versatile fabrics one must be in your wardrobe. You can wear in multiple ways and make pair with another summer fabric. The outfit of lacknowi makes you feel relaxable. It would be suitable for an occasion.
7. Rayon
Rayon is a man-made fabric mixture of cotton, wood pulp, synthetic fibers, and other natural. This fabric is very thin fiber, which allow proper air circulation and gives it a lightness that protect it your body in summers. Rayon can shrink when washed in warm water.
Use my CODE INCREDIBLE10 and get 10% Discount on every purchase which will make your day. You would get the best quality of fabric from Fabcurate.
Conclusion:

We must always wear comfort, and cool fabric so that we could feel confident and comfort zone. I hope this blog would be helpful you find out the fabrics suited for summers. You can buy your best one of fabrics online on Fabcurate at affordable prices. You must try and share your experience with me..
Summary
Author Rating





Brand Name
Product Name
Fuchsia Pink And White Leheriya Pattern fabric 
Price
Product Availability