Let's discuss a new life insurance plan named Jeevan Labh (Table No. 836). I am damn sure, most of the people would not hear about this new plan Jeevan Labh.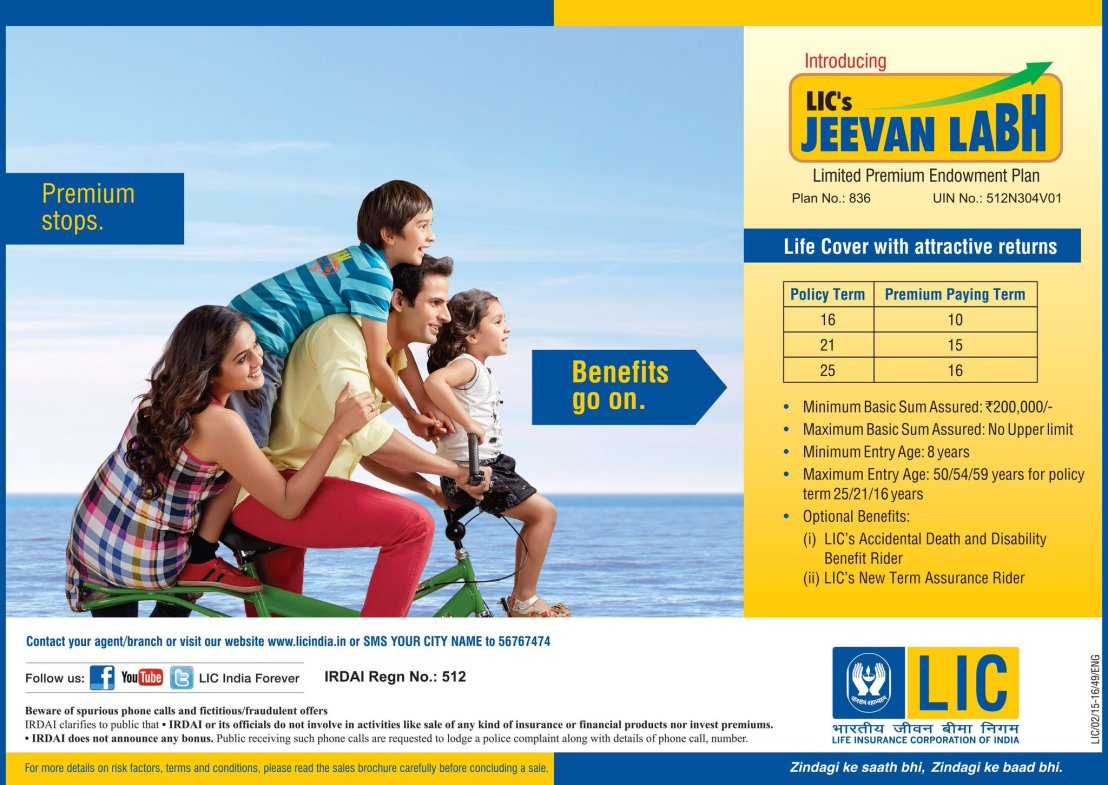 LIC had launched a new non-linked, limited paying premium, with profit endowment plan known as Jeevan Labh Plan in January 2016. It is the best ways to invest the money for tax saving.
Along with tax saving benefit, Jeevan Labh also provides lots of benefits to the buyer such as that of term insurance, accidental benefit, and disability benefit.
Eligibility of Jeevan Labh:
Minimum age at entry: 8 years
Maximum Entry Age: 59 Years
Maximum maturity Age: 75 Years
Policy Term Option: 16 Years/ 21 Years / 25 Years
Premium Paying Term Options: 10 Years/ 15 Years / 16 Years respectively
Minimum Sum Assured: Rs. 2 lakh
Maximum Sum Assured: Depending Upon Income (Means No Limit)
The policyholder can enjoy this life insurance plan (life cover) for being of its limited premium paying term.
Benefits of Jeevan Labh:
Death Benefits: The nominee has to right to claim of maturity in the case of death of the policyholder. There are two types of the death benefit. Let's look ahead.
…………………………………………………………………………………………
In the case of Natural Death:
Maturity: Sum Assured + Bonus + Final Additional Bonus (if any).
In the case of Accidental Death: (Double accidental benefit)
Maturity: Double Sum Assured + Bonus + Final Additional Bonus (if any).
………………………………………………………………………………………….
Maturity Benefits: The policy holder will get full maturity at the time of maturity.
Maturity: Sum Assured + Bonus + Final Additional Bonus
Tax benefits: Lic allows the premiums for tax rebate under section 80C and under-section of 10(D) of income tax act.
Pension: Jeevan Labh provides to the policyholder of retirement pension facility so that he/she could earn regular money after retirement.
Loan: Loan facility will be available after premium paying at least 3 years.
Surrender: Policy holder will have an authority to surrender his/her premium, but after 3 years of full premium payment (surrender value calculate).
To know more benefits of life insurance:
Required Documents:
The necessary documents required to be insured under the New Jeevan Labh Plan. Below are some basic documents required to getting insured by the LIC plan. All documents should be self-attested.
Correctly filled application form/ Proposal form
Address proof like Voter ID Card, Aadhar card etc.
Age proof such as 10th Marksheet, Pancard etc.
Other KYC Documents.
Medical History.
Medical diagnosis report as required.
LIC New Jeevan Labh Illustration:
Name: Mr. Ravi Kumar
Sum Assured:  Rs. 10,00,000
Age: 25 year
Term: 21(15) years
Paying premium term: 15 years
The policy holder can choose regular premium either monthly, quarterly, half yearly or yearly etc.
Premium: Yearly=55706, Half-yearly=28139, Quarterly=14212, Monthly=4737.
Maturity: S.A + Bonus + F.A.B
20,90,000= 10,00,000+9,90,000+1,00,000
LIC will have to pay maturity to the policyholder at the end of maturity.
Conclusion:
Being an advisor, I would like to say that Jeevan Labh is a great plan for the purpose of tax benefit and risk cover. But, benefits will depend on the company's performance. If you need any further information or clarification, just drop me a message or contact on http://www.facebook.com/licprofesional.