Hey, Guys!!
Now, let's discuss the next LIC life insurance plan "Jeevan Lakshay" that is the really amazing beneficial plan.

Jeevan Lakshay policy is a limited premium paying, non-linked with profit regular endowment plan as like Jeevan Umang and Jeevan Anand etc. This plan launched by LIC in March 2015.
This plan is an extraordinary and best plan for minors and adult also. In the case policy holder's death before the maturity of the plan, this plan offers an annual income which can be beneficial towards the needs of the family, and minors also. A lump sum amount is also available at the end of the maturity period, for the survival of the nominee.
The key features, benefits and other details about this plan given below.
Key Features of Jeevan Lakshay Plan:
Jeevan Lakshay: Both for child and adults.
Minimum Sum Assured: – Rs. 1,00,000
Maximum Sum Assured: – No Limit
Age Group:- 18 Years (Completed) to 50 Years nearest Birthday
Policy Term:- 13 Years to 25 Years
Paying Term: – Less than policy term by 3 years.
Maximum Maturity Age:- 65 Years
Rider: – Accidental Benefit Rider
Benefits of Jeevan Lakshay Plan:
Safe and guaranteed money.
Maturity amount under this policy is tax-free under 10D.
All premium paid is exempted from Income Tax under section 80C.
Loan Facility Available after 3 years of the date of commencement.
It can be converted into Pension plan at the time of maturity.
In the case of an accident, it provides double S.A + bonus.
In the case of disability, it waves off all premium and provides annual income till 10 years to the policyholder.
Example of Jeevan Lakshay Plan:
Let's understand This Jeevan Lakshay Plan with an example.
Name: Mr. Akaash
Sum Assured:  Rs. 10, 00,000
Age: 25 year
Term: 21 year
Paying premium term: 18 years
The policyholder has to pay premium monthly, quarterly, half yearly, or yearly till 18 years. He doesn't need to pay on 19th, 20th, 21st, year. He will get free risk in these years.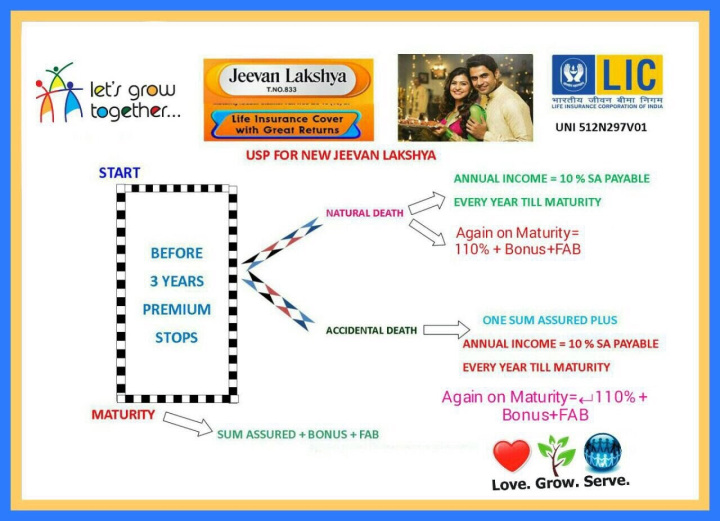 Premium: Yearly=53674, Half-yearly=27122, Quarterly=13703, Monthly=4568.
Maturity: Rs. 21, 50,000
In the case of Natural/Accidental Death:
Double Benefit: Premiums will have to wave off and Rs.1, 00,000 will get each year till maturity. Besides it, Nominee will get Rs.20, 00,000 + Bonus +F.A.B on the complete maturity again.
My Views for This Plan:
Being an advisor, I would say that Jeevan Lakshay is a great plan for everyone because it has all features which a policyholder need. If you need any further information or clarification, just drop me a message or contact on http://www.facebook.com/licprofesional.