Navratre Vs Durga Puja is one of the holiest festivals of Hinduism. Hindu people worship of Maa Durga who is the symbol of intelligence, mercy, and beauty, who is the better half of Lord Shiva.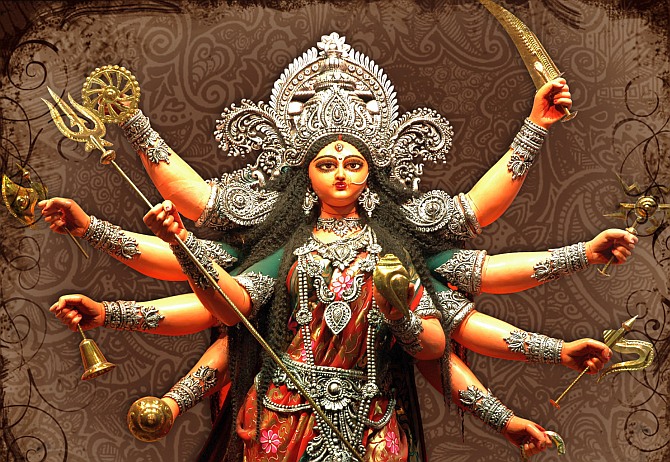 This festival honor for the presence of "Naari Shakti". According to Hindu Mythology, Goddess Parvati took an avatar of Durga to die a devil known as Mahishasur, who was a combination of Ashur and a Mahisha (Water Buffalo). All God was not able to die him because Brahma gave him a boon such that his death would not happen from a "Purush Shakti". But Mahishasur didn't know the power of a "Naari Shakti".
Navratri celebrates twice a year, once in the month of April-May and then in September-October. It is celebrated for 9 days and last day which is called Ram Novi. The 10th day is called Vijay Dasami or Dussera which is also a great festival of Hindu.
All the Devotees honor this festival for the whole night on the occasion of Ram Novi. It is a very big festival of all over India. In West Bangal, Kolkata and some states of west India, It is known as Durga Pooja.
Avatars of Shakti:
Here, I will discuss the 9 Avatars of Goddess Shakti (Parvati). You can see 9 Avatar in the video below.
Shailputri:  Shail means the mountain and thus she was also known as Shailputri. Goddess Parvati is the daughter of Himalaya, The Mountain. So, The First day of Navratre is celebrated for Maa Shailputri.
Brahmacharini:  People worshiped the Brahmacharini on the second Navaratri. Maa Parvati became the Sati in the Hawankund and her unmarried self is worshipped as Brahmacharini.
Chanderghanta:  The name derives from the fact that after marrying God Shiva and she started embellishing half Chandra (moon) on her forehead.
Kushmanda:  D Devi Kushmanda is worshipped on Chaturthi. She is also known as the goddess Power who has the capability to reside inside the Sun.
SkandMata:  Goddess Skandamata is worshipped on Panchami. Skandamata is also known as Lord Kartikeya and rides a ferocious lion along with the baby.
Katyayani:   Katyani Mata is known as the warrior goddess who is considered one of the most violent forms of Goddess Parvati. This name derives from a Rishi Katya.
Kalaratri:  Maa Kalaratri is worshiped on saptmi. Her dark skin color complexion as black to kill demons Shumbha and Nishumbha who is Riding a donkey.
Mahagauri:  On Asthmi, People honour to Mahagauri which means extremely white and this name derives from the fair complexion of Parvati.
Siddhidaatri:  The 9th day of the festival also known as Ram Navami, people pray to Devi Siddhidaatri. Sitting on a lotus and believed to possess and bestows all type of Siddhis.
Best Dishes for Navratre Fast OR Vrat:
Some People keep fast of Navratre for 9 days which is really tough. A variety of delicious, healthy dishes is prepared during this festival and having their fast. So, I am sharing with you some yummy dishes of fasting food or vrat which you may have in Navratri Festival.
As per fasting rules, we can't use regular spices in vrat dishes. You may use only "Saindha Salt" and "Blackpepper" instead of "white salt, turmeric, red or green chili" in vrat food.
Sabudaane ki Khichdi:

Samavat Chawal ki Kheer:

Samavat Chawal ki Pulao:

Kuttu or Aalu ke Pakode:

Singhade ke Aate ka Halwa:

Boiled Aalu ka Halwa:

Singhade ka Aate ki poori With Curd:

Kuttu Ke Aate ki Poori With Aalu Ki Sabji:

Zeera Aalu With Curd:

Khatta Mitha Kaddu:

Samavat Rice Ka Dosa:

Palak patato:

Samavrat rice Uttpam:

Snacks dishes For Navratre:

Sabudaana Pakoda:

Rosted Dryfruits:

Fruit Chats:

Patato Finger chips:

Sun dry patato chips:
Conclusion:

Some people has confusion about Navratre and Durga puja. So, I think now your confusion is clear. The Durga Pooja is celebrated in different style in India. Everyone is blessed with her loving mercy and is protected by Maa Durga. So, Enjoy Navratree vs. Durga pooja and may have above receipes in your fast. Pyaar Se Bolo…."Jai Mata Di..Jai Mata Di..Jai Mata Di".